| | |
| --- | --- |
| | NIKON D5100 16.2 MP Digital SLR Camera (with 18-55 mm Lens) |
Enjoy capturing stunning images with D5100™ Digital SLR Camera from Nikon®. This camera features the 16.2 MP DX-format CMOS Image Sensor and EXPEED 2 image processing engine that delivers outstanding image quality.

... Full Description

---

Manufacturer Part# : 25478 | Dell Part# : A4959735
Highlights
This product is not eligible for Dell Advantage rewards (5% back via e-promo Gift Card)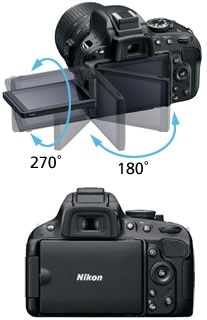 Versatile camera for creative inspiration
Enjoy capturing life's moments with the Nikon D5100 Digital SLR Camera. Designed so you can get the most out of your photography, this camera features a swing-out screen and plenty of image manipulation tools to give you a creative perspective.
See your shot from any angle
The D5100's screen swivels, allowing you to compose your shot from any position--even in front of the camera. Using the swing-out screen, you will be able to shoot from creative angles while standing in a stable posture and seeing your shot.
16.2-megapixel sensor records high-quality images
At 16.2 megapixels, the D5100's DX-format CMOS sensor captures photos with detail and smooth gradation. The camera also features the EXPEED 2 image-processing engine that reduces noise, improves color reproduction, and rapidly saves all the details of every image.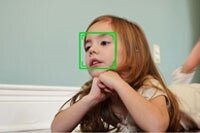 Face-priority AF.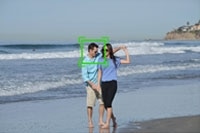 Full-time-servo AF and
subject-tracking AF.
Expandable ISO for low-light situations
In addition to its wide 100 to 6,400 ISO range, the Nikon D5100 has an expandable ISO that can reach up to an incredibly high 25,600 (Hi 2). Capture clear images even in dimly lit environments that would previously have been possible only with flash.
11-point AF quickly identifies your subject
With a speedy 11-point autofocus, the D5100 ensures you will never miss a shot as the camera locates your subject. The cross-type sensor delivers optimal subject identification, and the focus points are superimposed over your image through the viewfinder.
High-definition video recording
The D5100 records up to 20 minutes of high-quality video at 1,920-by-1,080 resolution and 30 frames per second. The camera also features a special-effects mode that allows you to tailor your video to your preferences.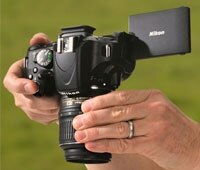 Shoot from a high angle.
View larger
.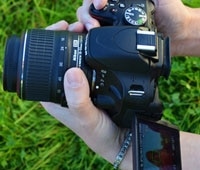 Shoot from a low angle.
View larger
.
Active D-Lighting preserves details
Nikon's Active D-Lighting technology preserves details in both highlights and shadowy areas of your shot, ensuring you get photos just as you see them. You can select from multiple settings or turn the feature off to best work with your lighting environment.
16 scene modes provide optimal settings
Choose from 16 scene options, including sports, close-up, night portrait, food, candlelight, and many other modes for accurately colored and exposed pictures. The D5100's Scene Auto Selector will automatically choose the ideal image setting for you if you have the autofocus on during Live View shooting.
Numerous options for effects and editing
With Picture Control, you have the option of choosing image settings before you shoot. After you have captured your image, the D5100 provides special effects, such as a filter that creates a fisheye effect, a feature that straightens the picture's horizon, and a color correction option, among others.
Wireless image transfer
The D5100 supports IEEE 802.11b/g/n, meaning you can wirelessly transmit your image data to your computer using an Eye-Fi card (sold separately).
Durable, quiet shutter
The D5100's shutter unit is tested for 100,000 cycles, ensuring it will last for years to come. Additionally, the shutter offers a quiet-release mode that is convenient for school plays, wildlife photography, or other situations when you do not want to disturb or distract your subject.
Ideal lens for portraits
This camera comes with an 18-55mm lens, ideal for shooting people, pets, and other nearby subjects. This focal range lets you get close to your subjects or step back and include scenery in the background.
What's in the Box
Nikon D5100 camera body, 18-55mm lens, lithium-ion battery, battery charger, eyecup, USB cable, AV cable, camera strap, eyepiece cap, body cap, accessory shoe cover, instruction manual, and two Nikon ViewNX CD-ROMs.
Overview
Enjoy capturing stunning images with D5100™ Digital SLR Camera from Nikon®. This camera features the 16.2 MP DX-format CMOS Image Sensor and EXPEED 2 image processing engine that delivers outstanding image quality. With 16.2 megapixels, a swivel Vari-Angle LCD monitor, full HD movie capabilities, new EFFECTS Mode and new HDR setting, you hold the power and performance to capture beautiful moments and the freedom to get creative. Plus it comes with AF-S 18-55mm VR lens which offer a host of new photographic and video tools. Additionally, it incorporates an amazing array of special effects for use when taking still pictures or recording D-Movie Full HD movies. Besides this it delivers high-quality movie performance due to its full HD capability while the latest in Full-time autofocus takes the guess work out of tracking your subjects while in motion. Furthermore, it combines two exposures to create an image revealing an extremely wide dynamic range, but with less noise and richer color gradation than ever before. The 11-point AF system provides flexibility to compose the shot you want ensuring your subject is captured sharply wherever it's located in the frame. Packed with such impressive features, the D5100 Digital SLR Camera ensures complete joy and comfort for your dream click.

Manufacturer Part# : 25478
Dell Part# : A4959735