| | |
| --- | --- |
| | Download - OpenLabs Stagelight Linkin Park Edition |
StagelightThe fast and easy way for anyone to create music. StageLight offers the music creation environment that is designed to be touchscreen friendly with a workflow that inspires creativity in people of all

... Full Description

---

Manufacturer Part# : 6000-1060-10 | Dell Part# : A6597609
Highlights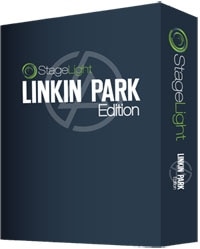 Intuitive music-editing software
Offering an intuitive approach to music creation, StageLight - Linkin Park Edition is a music-editing software app designed for people of all skill levels. This downloadable software includes an enhanced music editor, onscreen instruments, a vast sound bank with Linkin Park personal sounds, simple instructions and much more. Additionally, StageLight is multi-touch enabled and offers unlimited recording ability, so it's easy to create, edit and share your music all for an affordable price. It is designed for use with Windows 7 or 8 and requires a minimum of 4 GB of RAM and at least an i3 processor or equivalent.
Multi-touch enabled for improved flow
Open Labs has worked with top musicians such as Linkin Park, Timbaland, Prince, Madonna and many others to design touch screen music interfaces for improved workflow and a natural, hands-on experience. While fully functional with a mouse or keyboard, StageLight features touch capabilities to enhance your creative process and workflow. Use multi-touch gestures to interact directly with the onscreen instruments, effects and other features.
Designed for all skill levels
Whether you're a beginner or seasoned pro, StageLight has the power, guidance and tools to help you create music quickly and easily. Skilled users can start projects from scratch or simply import their own samples, sounds and sequences for further music creation and editing. Beginners can jump into music creation with a wide range of helpful lessons, infographics and other on-screen instructions.
Built-in sound content
Fans of Linkin Park will enjoy drum hits and rock synths from the band's personal library. This special edition of StageLight features hundreds of exclusive Linkin Park sounds, dozens of studio effects and a genre selector. StageLight - Linkin Park Edition also includes 20 exclusive drum kits and over 500 drum sounds.
Onscreen drum pads and keyboard
It's easy to lay down your own drum beats and play melodies and rhythms with the simple-to-use touch-ready drum pads and onscreen keyboard. StageLight offers a natural experience as you play directly on your touch-enabled screen. Easily lock into a certain key with StageLight's KeyLock feature and never hit a wrong note again. StageLight's drum machine automatically snaps your notes into place so you don't have to worry about not being in time ever again.
Create and import content
While StageLight comes with a vast sound content library, the software also offers an In-App Store for browsing and auditioning other sounds, effects and exclusive artist packs. StageLight is compatible with 3rd party VSTs (virtual instruments), effects, plug-ins and other audio and MIDI devices. Easily import and export your own tracks for further editing and mixing.
Share your music
Take your songs from concept to the world in one simple click. StageLight offers an automatic connection to SoundCloud, the web's largest audio platform, so you can share your music with friends, family and the world.
About Linkin Park
Linkin Park is a Grammy Award-winning, multi-platinum alternative rock band featuring co-lead vocalist Chester Bennington, drummer/percussionist Rob Bourdon, guitarist Brad Delson, bassist Dave 'Phoenix' Farrell, DJ/programmer Joe Hahn and Mike Shinoda on co-lead vocals, keyboards and guitar. The band has sold over 50 million albums worldwide.
What's in the Box
StageLight - Linkin Park Edition - Download.
Overview
StagelightThe fast and easy way for anyone to create music. StageLight offers the music creation environment that is designed to be touchscreen friendly with a workflow that inspires creativity in people of all ages. StageLight's built in instructions, included instruments, effects, and sound content will unleash the producer inside of you.

SongBuilderCreate music easily with our SongBuilder project. SongBuilder allows you to choose the music genre you want to create and we will assist you with instrument and patterns selection. As you move through SongBuilder you will be able to hear your song come to life.

Share your MusicAfter you complete songs, you can upload directly to the largest audio platform on the web from inside our application to share with your friends, family and the entire world seconds after it's finished. The world takes notice! Get yourself in thegame.

Touch Screen FriendlyWe have been designing touch interfaces for some of the world's leading musicians for the past seven years and now we offer the same functionality to you. While StageLight is fully functional with mouse or keyboard, we have utilized our touch screen experience to significantly enhance the workflow and creative experience of music creation.

Usage rights vary by product and may be subject to additional restrictions. Product images displayed are for illustration purposes only. No physical materials or documentation will be distributed with electronic software downloads from our site. Dell's Terms and Conditions of Sale apply.



Manufacturer Part# : 6000-1060-10
Dell Part# : A6597609