| | |
| --- | --- |
| | DELL Dell SuperSpeed Dual Video Docking Station - USB 3.0 |
Enjoy an increase in speed and more power by utilizing the latest USB 3.0 technology for your workstation. The Dell™ SuperSpeed™ USB 3.0 Docking Station offers dual video ports that can deliver beyond HD

... Full Description

---

Manufacturer Part# : YWDN0 | Dell Part# : 332-0446
Highlights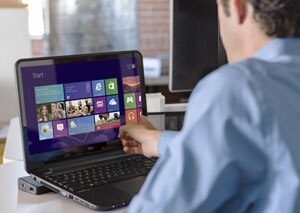 Connects laptops to external peripherals

The Dell SuperSpeed USB Docking Station is a sleek, ready-to-use device for connecting your PC notebook to a variety of external displays and devices. A single cable to your laptop provides an instant connection to monitors, Internet, and devices. With high-speed data transfer and multiple video and USB ports, the docking station is a reliable solution for creating a personalized desktop environment.

Dual video ports for two-monitor use

Enjoy expanded screen space when running multiple programs at one time. With two HD video ports, the Dell SuperSpeed USB Docking Station is a simple, space-saving way to connect your laptop to two monitors. The video ports deliver HD video and graphics with up to 2048 x 1152 resolution. The maximum screen resolution supported by the Dell SuperSpeed USB Docking Station is dependent on the user's monitor specifications and capabilities.


Two SuperSpeed USB ports offer high-speed data transfer
Power and charge more devices which have the ability to charge via USB with the docking station's two SuperSpeed USB ports. SuperSpeed USB delivers faster data transfer, excellent power efficiency and better output and charging capabilities than USB 2.0. A 2-foot SuperSpeed USB cable and a 6.5AC power adapter are included. Please note: This docking station will only charge devices via USB.

Four USB ports for essential devices
Integrate multiple USB-enabled devices to your workstation, including a mouse, keyboard, printer, speakers and more. The docking station has four convenient USB ports for connecting laptop peripherals.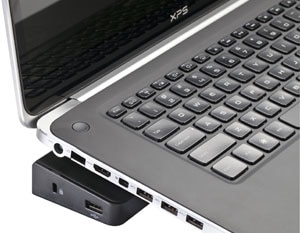 Gigabit Ethernet port for wired networks

The Gigabit Ethernet port provides improved bandwidth and a direct connection to wired networks. The port allows the docking station to remain plugged into the network for easy cable management.
Security lock slot guards against theft

Safeguard your workstation with the integrated Security Lock Slot. The slot requires a security lock (not included) to secure the docking station to a desk or other fixed structure.
Universally compatible with PC notebooks

The Dell SuperSpeed USB Docking Station is universally compatible with USB-capable PC notebooks. An included Driver CD provides simple instructions for a fast and easy setup.
Versatile, low-profile design

Featuring a slim, minimal design, the Dell SuperSpeed USB Docking Station complements a range of workspace configurations. The docking station measures 5.91 by 12.2 inches and features a slightly slanted top, making it a suitable size and shape to place under your PC notebook.

Overview
Enjoy an increase in speed and more power by utilizing the latest USB 3.0 technology for your workstation. The Dell™ SuperSpeed™ USB 3.0 Docking Station offers dual video ports that can deliver beyond HD video.
Graphics up to 2048 x 1152 (1x DVI-I, 1x HDMI) to two monitors
Includes a DVI-I to VGA adapter, 1 HDMI to DVI-I adapter, 2 USB 3.0 ports for your USB 3.0 peripherals* and 4 USB 2.0 ports for all of your USB 2.0 items
The docking station also includes a Gigabit Ethernet port, audio In/Out ports to connect speakers and a security lock slot
A 6.5A AC adapter and 2ft USB 3.0 cable are also included to help make it easy to connect your device to a complete workstation - dual monitors, a mouse, keyboard, printer and other peripherals (sold separately)
Two high-powered USB ports offer extra power and stay on even when the laptop is disconnected
Important Details:To enable graphics, audio and Ethernet on your Dell SuperSpeed USB 3.0 Dock via the USB cable, please install the software driver from CD or from http://www.displaylink.com/support. Please note that Displaylink driver is however incompatible with tablet platforms with Intel Atom processor Z2760, such as the Dell Latitude 10.

Setup Tips: Ensure laptop has internet connection prior to installation to guarantee required driver updates.

Please view setup instructions here

Windows XP / Windows Vista Setup: Do not connect the Docking Station prior to installing the DisplayLink Driver.

*USB 3.0 requires a USB 3.0-capable computer.



Manufacturer Part# : YWDN0
Dell Part# : 332-0446
Compatibility
This product is compatible with the following systems:
Adamo 13
Adamo XPS
Alienware M11x
Alienware M11x R2
Alienware M11x R3
Alienware M14x
Alienware M15x
Alienware M17x
Alienware M17x R2
Alienware M17x R3
Alienware M17x R4
Alienware M18x
Inspiron 1090 (DUO)
Inspiron 11 (3137) - 3000 Series
Inspiron 1120
Inspiron 1150
Inspiron 11z (1110)
Inspiron 1200
Inspiron 13 (1318)
Inspiron 1300
Inspiron 13R (N3010)
Inspiron 13z (5323)
Inspiron 14 (1440)
Inspiron 14 (1464)
Inspiron 14 (3421)
Inspiron 14 (7437) - 7000 Series
Inspiron 1420
Inspiron 14R (5420)
Inspiron 14R (5421)
Inspiron 14R (N4010)
Inspiron 14R (N4110)
Inspiron 14z (1470)
Inspiron 14z (5423)
Inspiron 14z (N411z)
Inspiron 15 (1525)
Inspiron 15 (1526)
Inspiron 15 (1545)
Inspiron 15 (1564)
Inspiron 15 (3520)
Inspiron 15 (3521)
Inspiron 15 (3541)
Inspiron 15 (7537)
Inspiron 1501
Inspiron 1520
Inspiron 1521
Inspiron 1546
Inspiron 15R (5520)
Inspiron 15R (5521)
Inspiron 15R (7520)
Inspiron 15R (N5010)
Inspiron 15R (N5110)
Inspiron 15z (1570)
Inspiron 15z (5523)
Inspiron 17 (1750)
Inspiron 17 (1764)
Inspiron 17 (3721)
Inspiron 17 (5748)
Inspiron 17 (7737)
Inspiron 1720
Inspiron 1721
Inspiron 17R (5721)
Inspiron 17R (7720)
Inspiron 17R (N7010)
Inspiron 17R (N7110)
Inspiron 2200
Inspiron 2650
Inspiron 4100
Inspiron 500m
Inspiron 5100
Inspiron 6000
Inspiron 600m
Inspiron 630m
Inspiron 6400
Inspiron 640m
Inspiron 710m
Inspiron 8200
Inspiron 8500
Inspiron 8600
Inspiron 9200
Inspiron 9300
Inspiron 9400
Inspiron B120
Inspiron B130
Inspiron E1405
Inspiron E1505
Inspiron E1705
Inspiron M101z
Inspiron M4110
Inspiron M5010
Inspiron M5030
Inspiron M5110
Inspiron Mini 10 (1010)
Inspiron Mini 10 (1012)
Inspiron Mini 10 (1018)
Inspiron Mini 10v (1011)
Inspiron Mini 12 (1210)
Inspiron mini 9 (910)
Inspiron N4020
Inspiron N4030
Inspiron N5030
Inspiron N5040
Inspiron N5050
Inspiron XPS Gen 2
Latitude 10 (ST2)
Latitude 10 (ST2e)
Latitude 110L
Latitude 120L
Latitude 13
Latitude 131L
Latitude 2100
Latitude 2110
Latitude 2120
Latitude 3340
Latitude 3440
Latitude 3540
Latitude D410
Latitude D420
Latitude D430
Latitude D500
Latitude D505
Latitude D510
Latitude D520
Latitude D530
Latitude D531
Latitude D600
Latitude D610
Latitude D620
Latitude D630
Latitude D630 XFR
Latitude D631
Latitude D800
Latitude D810 (Integrated Graphics)
Latitude D810 (Radeon x600 Graphics)
Latitude D820
Latitude D830
Latitude E4200
Latitude E4300
Latitude E4310
Latitude E5400
Latitude E5410
Latitude E5420
Latitude E5430
Latitude E5500
Latitude E5510
Latitude E5520
Latitude E5530
Latitude E6220
Latitude E6230
Latitude E6320
Latitude E6330
Latitude E6400
Latitude E6400 ATG
Latitude E6400 XFR
Latitude E6410
Latitude E6410 ATG
Latitude E6420
Latitude E6420 ATG
Latitude E6420 XFR
Latitude E6430
Latitude E6430 ATG
Latitude E6430s
Latitude E6500
Latitude E6510
Latitude E6520
Latitude E6530
Latitude L13
Latitude ST
Latitude X1
Latitude XT
Latitude XT2
Latitude XT2 XFR
Latitude XT3
Latitude Z
Precision M20
Precision M2300
Precision M2400
Precision M3800
Precision M4300
Precision M4400
Precision M4500
Precision M4600
Precision M4700
Precision M50
Precision M60
Precision M6300
Precision M6400
Precision M65
Precision M6500
Precision M6600
Precision M6700
Precision M70
Precision M90
Studio 1457
Studio 1458
Studio 14z (1440)
Studio 15 (1535)
Studio 15 (1537)
Studio 1536
Studio 1555
Studio 1557
Studio 1558
Studio 1569
Studio 1735
Studio 1737
Studio 1745
Studio 1747
Studio 1749
Studio XPS 13 (M1340)
Studio XPS 16 (1640)
Studio XPS 16 (1645)
Studio XPS 16 (1647)
Venue 8 Pro (3845)
Venue 8 Pro (5830)
Vostro 1000
Vostro 1014
Vostro 1015
Vostro 1088
Vostro 1220
Vostro 1310
Vostro 1320
Vostro 1400
Vostro 1440
Vostro 1500
Vostro 1510
Vostro 1520
Vostro 1540
Vostro 1700
Vostro 1710
Vostro 1720
Vostro 2420
Vostro 2510
Vostro 2520
Vostro 3300
Vostro 3350
Vostro 3360
Vostro 3400
Vostro 3450
Vostro 3460
Vostro 3500
Vostro 3550
Vostro 3555
Vostro 3560
Vostro 3700
Vostro 3750
Vostro A840
Vostro A860
Vostro A90
Vostro V13
Vostro V130
Vostro V131
XPS 10
XPS 11
XPS 12
XPS 12 MLK
XPS 13
XPS 13 (9333)
XPS 14 (L401X)
XPS 14 (L412z)
XPS 14 (L421X)
XPS 15 (9530)
XPS 15 (L501X)
XPS 15 (L502x)
XPS 15 (L521X)
XPS 15z
XPS 17 (L701X)
XPS 17 (L702X)
XPS 18 (1810)
XPS M1210
XPS M1330
XPS M1330 (PRODUCT) RED
XPS M140
XPS M1530
XPS M170
XPS M1710
XPS M1730
XPS M2010